Hey everyone! Can you guys believe we are only a week out from the
Disneyland Half Marathon Weekend
? This is one of my favorite races of the year and is the official kick-off to my fall race season as well as marking the end of summer. I am so excited to be in Disneyland for the
60th Diamond Celebration
anniversary year which means lots of excitement and special surprises at the park. I'll talk a little about race weekend but also throw in some suggestions and my picks for the happiest place on earth!
I am not as familiar with Disneyland as I am the Florida-based Walt Disney World Resort but thanks to runDisney, I have had my fair share of experiences on the West Coast. If you grew up with Disney World, Disneyland is a bit different than what you might be used to. It is smaller, there are two parks (Disneyland and Californian Adventure) but that doesn't make it any less fun. In fact, it is nice to just walk back and forth to the parks rather than take a bus or monorail. You will however need a park hopper pass if you plan on visiting both parks on the same day. There is also a Downtown Disney area like Florida which is within walking distance to both parks. Let's start with the race portion of the post.
Tip 1: Unlike Disney World it is not a necessity to stay on property
.
If this was a WDW runDisney race I would 100% tell you to stay on site. A main factor that has Disneyland races above the WDW versions is how easy it is to get to the race. You can stay at a wide array of
neighbor hotels
rather than just the main three
Disney resorts
(if you are staying on property, I recommend the
Disneyland Hotel
). The other good thing if you are closer to the start line, you don't have to be up at zero dark thirty (I'm looking at you WDW marathon and Princess Half) and you can get dressed and just walk over to the start.
Tip 2: Dress in Costume
I've covered this costume
topic
before but I can not stress enough how much more fun you will have running in costume. Your pictures will look much better, you will get more cheers, and you will be faster (ok, I can't guarantee that one) but you will have more fun (or at least look like it!). If you don't want a full on costume at least put on some 60th Anniversary ears!
Hint for one of this year's costumes...
Tip 3: Print Out Your Waiver and Find Your Corral Letter NOW
At runDisney races, you are required to submit a proof of time (the deadline was a few weeks ago) so you will be seeded into a corral. Print your waiver
here
and look on waiver to find your race number. Disneyland half corrals are
here
and Dumbo Double Dare corral
letters
also available.
Tip 4: Be Ready for the Bling and Have Fun!
Chances are it is going to be hot and you will be sweaty and wondering why you thought running 3.1, 6.2, 13.1, or 19.3 miles was a good idea. Just remember you paid over $100 and for some over $300 to do this so HAVE FUN! Take lots of pictures, stop for characters, the castle, everything! Trust in yourself and it will turn out just fine. Maybe your training didn't turn out exactly how you thought it would if that's the case, take it easy with plenty of walk breaks. It is NOT worth risking hurting yourself. If the going gets tough, just remember you have these waiting at the finish line! Oh and I like to put my medals in a zip lock bag and keep them in my purse or carry-on, I worked too hard to have something happen to them :)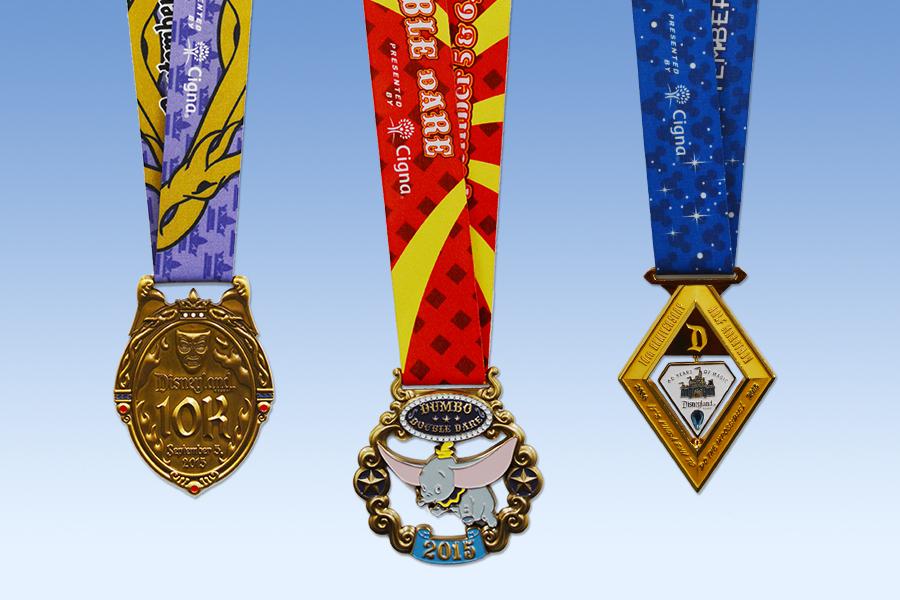 Photo Credit: runDisney


Ok, we have covered the race aspects but what about the rest of Disneyland? Here are a few things, attractions, places you need to see and try!
1. Sleeping Beauty's Castle in Diamond Celebration Style
I can't wait to see the castle all decorated for the special 60th anniversary!
2. Mickey Beignets at the Mint Julep Bar in New Orleans Square
Maybe my favorite "land" in all the Disney parks. Southern charm with a spooky twist (hello Haunted Mansion!) and you feel like you are right in the middle of New Orleans. This are delicious and great for carb loading, right?
3. The Blue Bayou Restaurant
One of the best
restaurants
in Disneyland, the theme is incredible and the scenery is perfect for an easy going lunch or night out. Even my family and friends who are super picky and don't like spicy food (me included) always request to go here. Sip on a mint julep and enjoy your time!
4. Mickey Ferris Wheel in California Adventure
One of the "landmarks" of the parks, I am terrified to ride (I always choose the non-swaying version) but it is a favorite picture spot. It is also the centerpiece for the lovely water fountain show/extravaganza
World of Color-Celebrate!
which takes place each night!
4. Clarabelle's Hand Scooped Ice Cream
The old-fashioned
ice cream shop
over in California Adventure is home to one of the best desserts, the kitchen sink. It is like one of those mini ones you would find over at Beaches n Cream at WDW. There are several different options but I love the mint chocolate chip fudge and "The Oswald". The perfect post-race treat!
5. The Pirates of the Caribbean attraction
Ok, I may be partial to Disney World since I grew up visiting Orlando but one attraction that has WDW beat is
Pirates of the Caribbean
. It is much better than the Florida version in my opinion. If you are short on time in the parks visit the Disneyland attractions that are not offered in Florida such as Mr. Toad's Wild Ride, Matterhorn, and the Indiana Jones Adventure to name a few. If you are visiting California Adventure, you have to check out the very popular and well themed
Cars Land
(Radiator Springs Racers is worth the hype!).
Photo Credit: Disneyland
A few things you also need to try:
Corndog
(Disneyland is famous for them, the Corn Dog Castle in California Adventure often has a shorter line than the Disneyland cart).
Tiki Juice Bar
you must have a dole whip at least once in your life!
Jolly Holiday Bakery
can't wait to try the 60th Anniversary cupcake! Do things YOU want to do, after all it's your vacation :)
Hope everyone who is planning on attending next weekend or in the future enjoyed this post. I would love to hear tips from y'all as well so feel free to email me personally or comment below!
Happy Traveling and Racing!
XOXO,